My mom lives in CA so it's always a big deal when she visits OH... either we travel north or she travels south for a few days. This year we were very fortunate that we were able to go to OH - we get to spend more time with her that way.
SATURDAY, MARCH 27
We left at 8:20 AM and reached Lexington, KY by about noon. Kitten has a friend there, so we stopped and played for about 1.5 hours.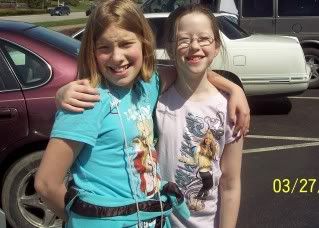 It was about 4PM when we got to my In-Law's house. We visited, ate dinner, and they sang "Happy Birthday" to me.
7PM - arrival at Memaw's house to visit a bit before heading to the hotel.
SUNDAY, MARCH 28
We went to church with *my* Grandma, and I have to tell you she FELL while holding the baby!! Everybody is OK but she really freaked me out. (Not for the baby's sake, he was fine.) Afterward, we went to Grandma's house for pizza and Birthday Cupcakes. (Do you sense a theme?)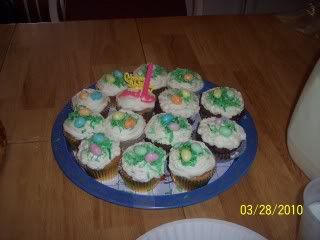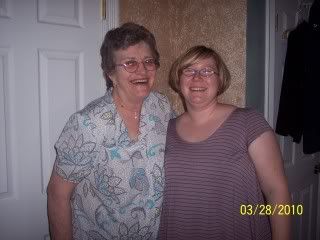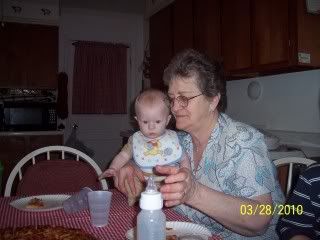 Later that evening, I dropped Mr Krabbs and Turtle off at my In-Laws house so that the rest of us could go to
La Comedia
, a dinner theatre. We saw Phantom of the Opera, I had forgotten the story line so it was like watching it for the first time! =)
This is a pic of the big kids - my 3 oldest, my brother's boys, and my sister. There was also my mom (Nana), my Memaw, my brother and his girlfriend.
My mom had a Birthday Cake sent out to me.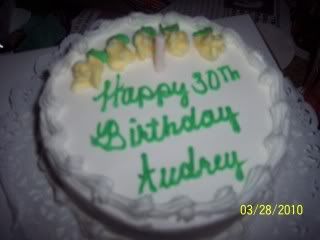 The kids were excited that they got to meet the cast. Kitten said, "I get to meet a real live super star!" =)
When I picked the little boys up I found that they had been crying the ENTIRE TIME that I was gone.
MONDAY, MARCH 29
The morning was spent at
Boonshoft Museum of Discovery
. Awesome, hands on and very kid oriented. My best friend (Michelle) from middle and high school joined us with her son. (My mom was taking the pics.)
Then we went to McDonald's and played for an hour or so. After that we went shopping and Memaw joined us for dinner at Golden Corral. Back at the hotel mom took the kids swimming.
TUESDAY, MARCH 30
My friend Michelle (of
www.MichelleLumPhotography.com
)
took our pictures
at Carriage Hill Farm.
Memaw is explaining how her mother used a stove similar to this one.
We had KFC for a late lunch. Mom took my brother and his girlfriend to dinner and Memaw and I watched the kids. My dad came to visit us and so did Gina, another friend of mine.
WEDNESDAY, MARCH 31 - my birthday!
Mr Krabbs had a low grade fever but we decided to head to the Cincinnati Zoo anyway. He started feeling a little better as the day went on.
SPEED RACER!
AFTER the zoo - can you believe we did more? I'm telling you my mom WORE. ME. OUT! - we went to
Newport on the Levee
.
For my birthday dinner we ate at Mitchell's Fish Market. I had a steak though.
The Ohio River and Cinti as a backdrop. I had a good birthday... definitely one to remember.
THURSDAY, APRIL 1
We went back to Newport and spent the morning at the aquarium. Mr Krabbs still wasn't feeling well and he wanted to wear the green shirt again, so I let him. =)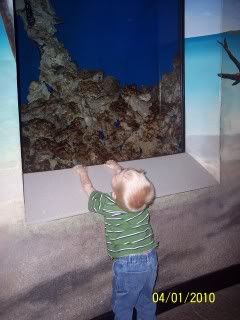 Eating ice cream. It's the only shade they could find.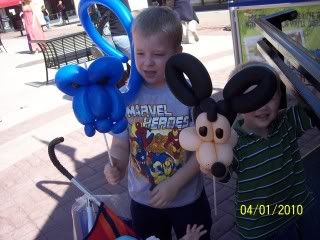 FRIDAY, APRIL 2
Time to go home. We were about 20 miles from TN (in KY) and we hit stand still traffic... you know the kind where people get out of their cars and you see kids playing on the shoulder...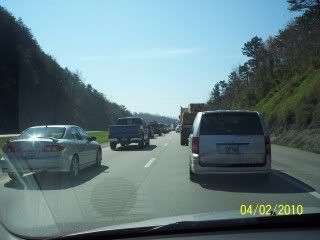 The good news is that with all of the educational activities we can count most of this week as school! (Also posted on my
Homeschool Blog
.)