Wow, I can't believe that he's finally here!!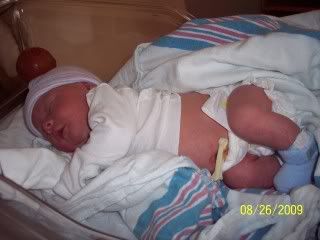 It was truly an amazing experience.
The short version:
I went in the night before (the 24th) so that they could start the "balloon."
It fell out at 4am, which meant that I was about 3cm dilated.
At 5am they started pitocin.
About 7am I started feeling some contractions.
8am the Dr. broke my water and said that I was almost 4cm.
9am the contractions started to become painful. I was given a "shot" of stadol. 5cm.
10am the contractions doubled in length and strength. I had to push. Almost 10cm.
10:15 I called my mom so that she could "be there."
A contraction or two later I started pushing...
and my baby arrived at 10:24am on Aug 25, 2009, weighing 7lbs 1oz and 19.5" long.