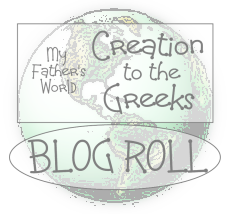 Grab this button:
If you're using My Father's World:
Creation to the Greeks
this year (or have in the past) please link to your CtG posts. It would be much easier for us if you could create a label or tag for all of your CtG posts and link us to that tag.
My actual label is
MFW: CtG
, but this is what the url looks like:
http://iamaud.blogspot.com/search/label/MFW%3A%20CtG
That takes you directly to all of my CtG posts.