It's called
Developmental Dysplasia of the Hip
(DDH), and my baby has it.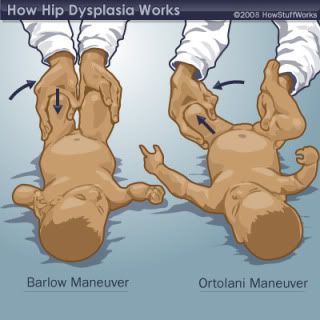 The first well-baby exam was at 6 days, and the Ped did the
Barlow Test
. During the test he found that the baby's hips were clicking. He said that his hips were loose and we needed to get an ultrasound to determine how bad it was and if we needed to do anything about it.
Ultrasound was done at 10 days and he had a follow-up with the Ped at 14 days (last Tuesday). He told me that I needed to take the baby to see the Orthopedist to see if he needed to wear the Pavlik Harness.
From what I understand, *Z* has a mild case. There is absolutely NO dislocation at all! He does have some subluxation though. That just means that the hip socket is not shaped like a cup, it's more like a saucer. We'll know more after he has an ultrasound with a Pediatric Radiologist on October 1. Since time is of the essence, the Orthopedist wanted to go ahead and put *Z* in the harness and follow-up after the ultrasound. We'll also know better exactly how long he'll have to wear it after this appointment.
The whole point of the harness is to keep his hips at a 90 degree angle. This will help the socket to form like a cup. Right now baby's hips are more like cartilage than actual bone, so making them form correctly isn't a problem at this age.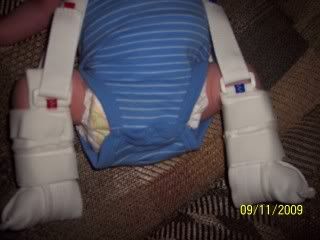 I'm allowed to take it off to give him a bath and change his clothes.