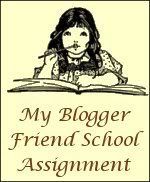 Assignment #110:
Share some of your favorite homeschooling sites. The only "rule" for this assignment is that you have to list at least one "free" site. Many homeschooling families have made the choice to live on very little income to do what they believe is best for their children and I want everyone to be able to benefit from this assignment. If you have other sites that are "paid" sites, feel free to include these also as it might be something someone would really appreciate. If you feel led, share your curriculum choices with us. I always love to learn what is out there that I don't already know about. Please make sure to include links to the sites you share.
Free Books Online:
Google Books
The Baldwin Project
Many Books.net
Project Gutenberg
General Homeschool Resources:
Homeschool Share
- lots and lots of free stuff
Donna Young's Forms
Play Dough Recipe
- just like regular play doh!
Charlotte Mason Resources:
Ambleside Online
- most of the books are free. There are very few books that you would have to borrow from the library or buy. (Or in my case, just not use.)
Simply Charlotte Mason
Penny Gardner's Site
Learn to Knit:
Knitting Help.com
- these videos are teaching me how to knit.
The Knit Witch
- more good videos
Lion Brand Yarn Co
. - a lot of really good free patterns
History:
A Book in Time
- free activity ideas
Answers in Genesis
- articles relating to History
Historical Fiction
- book lists
Bible Timeline
- dates creation at 4004 BC
Links of Various Timelines
Brittish History for Kids
TN History for Kids
Ancient History:
Ancient Egypt
- a list of different websites
Ancient Egyptian gods
- explanations
Ancient Egyptian gods
- symbols
Ancient Greece
- activities
US History:
Presidents
- info
Presidents Lapbook
Archiving Early America
- awesome! you can see original documents and text formats also
White House Kids
Liberty's Kids
- on YouTube, this links to a specific episode, but it's fairly easy to navigate once you're there
Music Appreciation:
The Cyber Hymnal
Classics for Kids
Art Appreciation:
Artcyclopedia
Color Me Masterpiece
- print and color famous artwork
More Coloring
Lessons and Activities
Where to buy curriculum?
Homeschool Classifieds
CBD
(Christian Book Distributors)
Rainbow Resource
Amazon.com
Veg Source
BestEdusource
- Singapore Math
I made
another list
not too long ago. I tried not to have too many of the same things. Enjoy!