First of all I have to say that I LOVE the loop schedule! We got so much done! It's nice to just do one thing if that's all I can squeeze into a certain time frame. Again, wow!
In History this week our focus was George Washington. We finished reading Meet George Washington, and A Child's Story of America pages 99-107. In CSA, we learned about the branches of government, how they work, and George Washington as our first President.
They traced the picture and we looked up the dates in a president book that I have.
Our picture study this week has been "Starry Night" by Van Gogh. We read a bit about him from VM Hillyer's Child's History of Art. After that they colored this page from Enchanted Learning.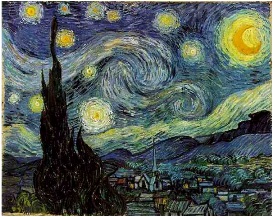 We've been studying Tchaikovsky and this week we listened to some music from the Nutcracker.
We actually got to do science this week! Thank you loop inventor! We started chapter 9 on insects. After each section the kids wrote a little bit in their composition books. They also are labeling an insect from Enchanted Learning. The coolest thing is that I got these from Dollar General for 60 cents (how do you make the little cent sign?) each!
In Latin, we did chapter 6 in SSL. We're having fun remembering that "vir" is man, because daddy is a man and he is "weird." :) *C* said "puer" and *L* ran to get Pooh Bear. LOL! They've done 1 page per day in Latin's Not So Tough. We're working on Chapter 3 in Minimus. Just a minute ago *B* said, "quid facis?" I said, "Stuff." She said, "You mean stuffius." Followed by a giggle.
In math, *B* did lessons 23-26 and Monday she will take the Chapter 3 test. I had *C* take the grade 2 readiness test for Horizons and he only missed a few. So, Monday we'll start the grade 2 book. I really only started with grade 1: book 2, because I wanted to make sure that he was ready. He is. *T* did lesson 14 in Horizons K. I found some worksheets leftover from MUS Primer, and I'm having him do some of those. He really needs more practice with number recognition.
Oh, and even though we're doing the loop we've been starting each day with Bible readings. We're using
Penny Gardner
's compiled list.
On a side note... I've finished the first chapter of Sense and Sensibility! euge!